Synology is a proprietary piece of software that is used for managing the companies NAS devices. The awesome thing about the Synology software is it is very light weight, uses next to no resources, can provide RAID support and manage several drives in a pool. If you are wanting the convenience of a NAS without the additional hardware, a convenient option for managing your files, remote file server etc. Synology might be an excellent fit. Though typically without purchasing said Synology device, this option wouldn't be available, With the help of a loader developed by some crafty individuals, we can enjoy Synology on our home server via a Proxmox VM.
It appears Several Individuals are having difficulty finding their Synology Server via the assistant within Proxmox 6.0 I am not certain as to what the issue is but I have added an additional Methods of installing Synology for people to play around with and see if they can get better results, Scroll to the bottom or simply click Here.
Lets go ahead and get started with gathering the files needed for this install:
Now that we have those downloaded, lets jump into Proxmox and start a New VM
Use the following Options:
GENERAL
Name: Synology (or whatever you please)
OS
Select: Do Not Use Any Media
Type: LInux
Version: 4X/3X/2.6 Kernal
Hard Disk
Bus/Device: Sata
Storage: local
Disk Size: 20GB
Format: QeMU image format (qcow1)
CPU
Sockets: 1
cores: 1
Type: Default (kvm64)
MEMORY
Use Fixed Size
Memory(MB): 2048
NETWORK
Bridged Mode
Model: Intel E1000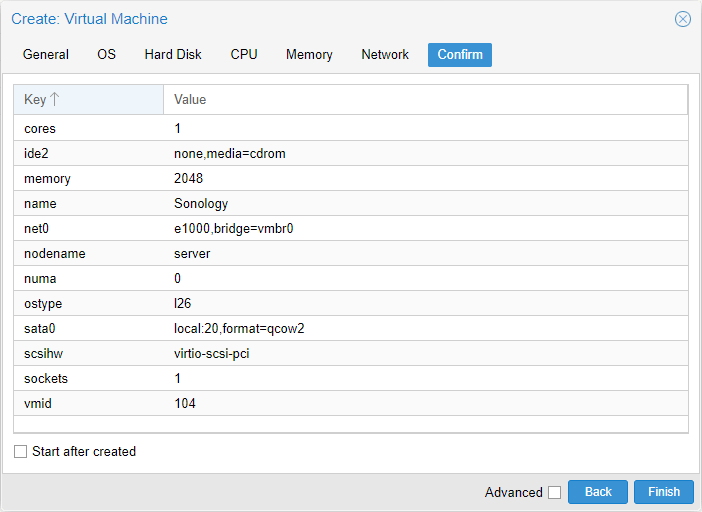 OK now we are done with the initial setup but we have a few steps we need to do lets assume you used the id "104" for this particular VM, in that case we want to move Juns Loader V1.04b (make sure it is titled "synoboot.img") to the following directory:
/var/lib/vz/images/104/synoboot.img

Now with the image in its correct location we want to get to a command line via the shell, puTTy etc. and type the following:
qm importdisk 104 /var/lib/vz/images/104/synoboot.img local
You should see the following:
Now If we go to the Hardware page in the Proxmox gui we should see our now "Unused Disk" towards the bottom, click on that and change it to: Sata 1 and hit Ok.
Now jump to the Options Page:
change the following:
Boot Order: Disk 'sata1', CD-ROM, Network
SCSI Controller: Default (LSI 53C895A)
BIOS: OVMF (UEFI)
Back to the Hardware page
Add -> EFI Disk
Let's go check The NETWORK Model one more time and ensure it is on Intel E1000, if not switch it back (I found mine to Change itself and give me issues).
Now one last Final Step, we have to insert an "Args" string into the config file, so open up a puTTy session logging in to your server as root and type the following:
cd /etc/pve/qemu-server/
We are now in a directory that contains the config files for all individual VM's & Containers named 100.conf, 101.conf, 102.conf etc. so depending on what VM ID your Synology server has been (104 for this example) you will type the following:
nano 104.conf
We are now in the Editing Screen, press the enter key to move the arguments down a couple lines, and with your cursor on the top line enter the following line:
args: -device 'piix3-usb-uhci,addr=0x18' -drive 'id=synoboot,file=/var/lib/vz/images/104/synoboot.img,if=none,format=raw' -device 'usb-storage,id=synoboot,drive=synoboot'
Note that that should be all one continuous line, now we will save the file by pressing:
ctrl + o then Enter to confirm
Lastly we just need to exit with ctrl + x
We should be Set up and Ready to Go!
Start up the VM and We should be taken to a GRUB with a few Options, Select the First Option if it doesn't just go forward automatically.
We will now be presented with a screen that asks us to visit http://find.synology.com, I have yet to ever see that actually work so this would be a good time to install the Synology Assistant if you haven't already. and continue at "Locating our Server With Synology Assistant" Below!
Alternate Installing Synology with Template
In this method we will be using a backup template to restore for a pre-built Synology server opposed to a hack loader, this is primarily aimed for those who need an alternative after having issues with Proxmox 6.0
To start out you will need to download the following:
vzdump-qemu-xpenology-3615xs-6.2_23739.clean.vma Here
(As of to date I have only managed to get the 3615xs template working on my server, but don't let that discourage you from trying out the others, you may have different results.)
After you have downloaded the template and extracted if necessary, you will need to move the file to the following directory on your server:
/var/lib/vz/dump
Now with the file copied, in the Proxmox GUI with the node selected, click on the Local (Storage), then "Contents".


You should see something similar with our image listed under "VZDump backup file" go ahead and select the image and click "Restore"



Set the Storage and VM ID, and click "Restore"
After the VM has been created Click on it and Select "Hardware"

Before starting the VM, you will want to resize "Hard Disk (Sata 1)" to your desired size, though be sure not to touch (Sata 0) as that is pre configured, and will not function if changed.
Important Notes: In my observations when sizing the disk greater than 2TB, the VM has strange issues and does not appear to function properly, So keep that in mind when sizing it. Also Do Not Touch "Network Device (net0)" It is down for a reason, that is so when Synology tries to verify the MAC, it doesn't raise a flag and cause additional issues, unless spoofing your MAC, do not touch this.
Once you have the space configured, go ahead and start up the VM and continue on with Synology Assistant.
Locating our Server with Synology Assistant
With the Synology Assistant open, it will begin to Search, if it doesn't find anything the first time don't fear just click on the search button.
when a User Agreement Licence window Pops up go ahead and agree and you should see your Synology install below, click on the result and it will load a browser window with the current IP and Port # (Take note of that) and let you begin the install.
This will bring you to the Welcome Page where you will click on Setup
Select Manual Install
Click Browse and Find the "DSM_DS918+_23824.pat" file we downloaded earlier
Let the installation complete
Choose a Server name & Credentials
Click Next
DSM Update & Maintenance (choose your preferences)
Setup QuickConnect (You can set this up or skip it)
Click Go!
Update: Your Synology server will advise you of the following system update DSM 6.2.2-24922 Update 3, Juns loader 1.04b is considered "Compatible" always update at your own risk. (I personally have updated without Issue)

Congratulations, you have completed the install and have Synology up and running! You can also check out my guide on Setting up an Automated Home Theater System with Synology here, also feel free to look up mapping Synology Shared Folders to Windows, or Mounting Synology Folder in Linux, Setting Up Raid etc.
Happy NASing!